Production Hosting & Co-Location Services
Beechglen stands ready to provide cost effective, customized hybrid-cloud solutions to support your mission-critical production HP server cloud transformation objectives. Having provided managed hosting solutions since 2002, Beechglen has the expertise to identify and craft hosting solutions that provide unmatched value and a clear and simplified roadmap to the cloud.
Whether in our own secure on-site data center or on-prem as-a-service, leave the details to us!
In a Hybrid World, we bring the Cloud to you!
Our HP technicians will work with you to craft a hosting solution that best meets your company's needs and is more reliable and cost efficient than other non-cloud native application hosting alternatives. Allowing Beechglen to host your systems clears up data center space and eliminates hardware and software maintenance contracts – while having uninterrupted, constant access to your mission-critical, non-cloud native applications.
In addition to hosting your systems our team can bundle custom system administration, encrypted back-up and data management, and disaster recovery, as well as other services in one complete package.
Beechglen lends assistance and expertise to your hybrid-cloud transformation journey by:
Assessing all potential solutions for compatibility and performance/cost optimization, ensuring our solution recommendations

Understanding the dependency and topology between application components & data components of the application and all its users

Filling the Legacy systems knowledge/skills gap with our centuries of expertise and unmatched depth vs. broad-based generalists

Assisting transition from CapEx to OpEx-value+ infrastructure model
Production Hosting Case Study
Case Study – Production Cloud, SysAdmin, BGDSAN, TripleStore & Mission-Critical Support Solution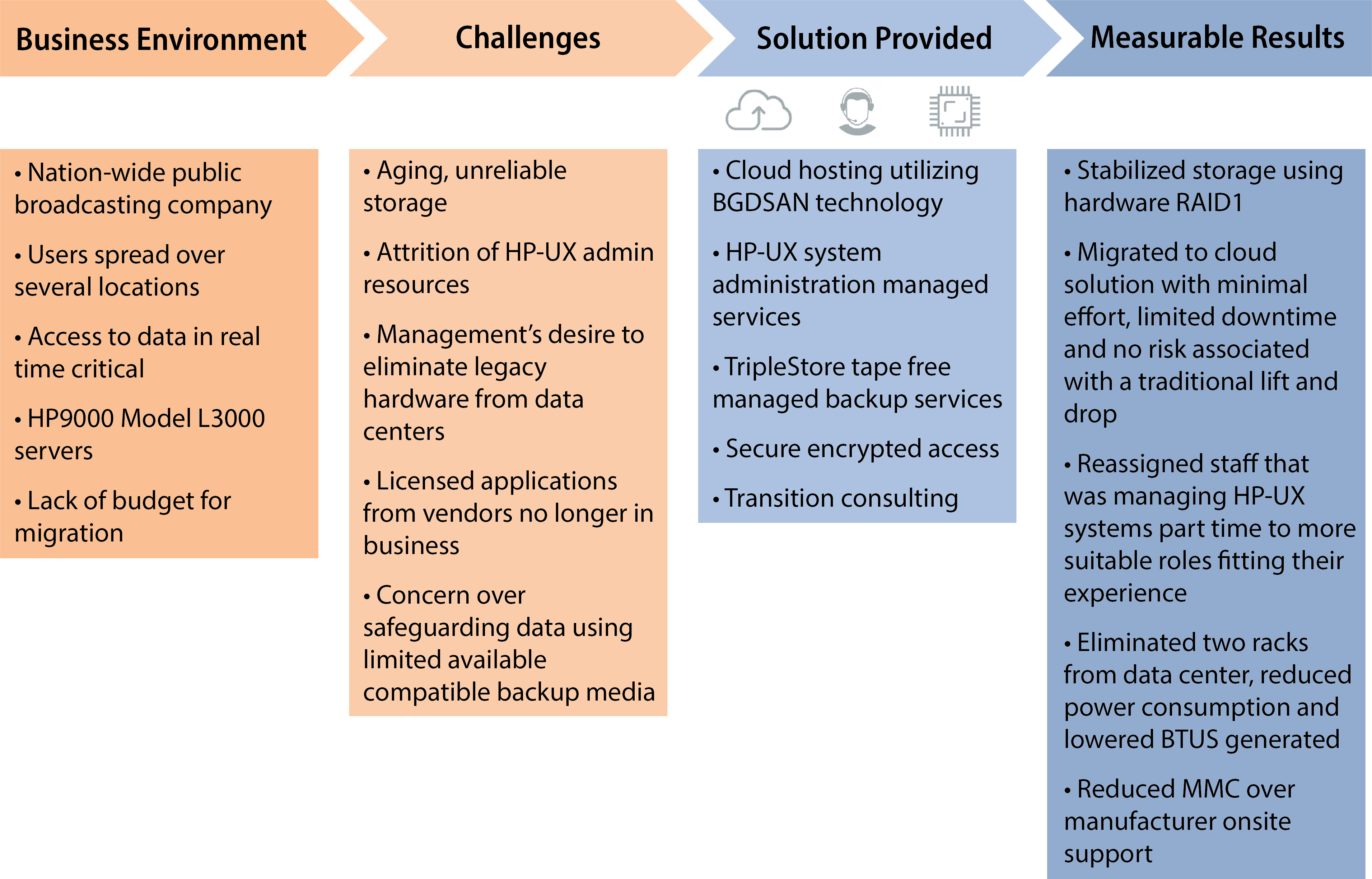 Beechglen's Custom Hosting for MPE/iX, HP-UX, Windows, and Linux Environments Includes:
All current versions of MPE/iX, HP-UX, Windows, and Linux
A wide variety of supporting components including: Firewalls, redundant Internet bandwidth, VPNs, Data Replication, Disaster Recovery, and more.
Our automated monitoring, administration tools, and staff expertise allow us to provide a comprehensive approach to managing business-critical environments for your non-cloud native applications hybrid cloud transformation.
Beechglen's Managed Services for MPE/iX, HP-UX, Windows, and Linux Environments Includes:
24/7 Monitoring and Management
Production Database Administration
Custom Data Replication Solutions
Version/Patch Management
Capacity Planning
Performance Management
Security Management
Trouble Ticketing
Problem Resolution
Data Backup & Recovery
Batch Job Processing
Beechglen will customize offerings to create a unique service level agreement that meets your exact requirements. Our all-inclusive pricing model provides one monthly fee for all of your needs, allowing you to manage your IT budget and provides the flexibility you need to adapt to changing requirements without penalty.